Is there anyone who doesn't like beef sticks? They are the most delicious, stacked source of protein and will last for a long time if they are preserved correctly. However, every year it looks like they are gradually increasing in price when purchasing from the store. But, not everyone knows the recipe to make them at home for themselves.
Many people can spend up to $10 a day purchasing these snacks. If you can learn how to make these tasty snacks at home, you could be saving yourself a large sum of money.
What we are going to do in this article is walk you through the exact process of how to make beef sticks at home which you can share with your family and friends. I am sure they will love it if you show them this quick and simple recipe.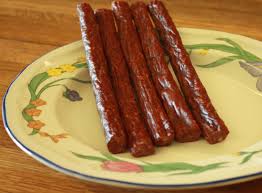 Considerations
When you make the choice to produce these snacks from home, there are a small number of factors and methods that you should take into consideration, these are based on your needs and preferences.
Smokers Vs The Oven
We personally prefer the flavour that smoking gives the meat that we prepare.
Although, using or purchasing a smoker to cook your meat can be a real challenge and you need to know exactly what you are doing.
The same thing may happen if you choose to smoke beef sticks. They can turn out to be rather challenging if you don't know the exact method to do it.
The real secret to smoking this delicious snack is to allow for a low level of heat to apply to the meat, this helps to ensure that the meat dries out and doesn't cook it. In order to do this, you will need to keep a consistent temperature below 200 Fahrenheit.
The problem is that with many of the smokers available, it can be extremely difficult to keep your temperature below this heat level.
If you feel confident with your smoking ability, then make sure that you keep a close eye on your temperature. If the fire ends up getting too hot, then you will need to remove the meat until it has settled back down to the ideal temperature.
An oven gives more control over the temperature, which is how we would suggest preparing beef sticks at home. It is in nearly everyone's home and helps to give more accurate control over the temperature when cooking.
However, if you want to give the smoking method a try, then you can use the same cooking time and temperature as below. But, only if you are confident in your smoking ability.
Different Types Of Beef Stick
There are a few other things that you need to consider, these being what is your favourite kind and which you would like to cook.
There are many different flavours and methods for this particular snack. But, we have decided that we are going to give you the recipe which is the most used and the ones which we feel have the best taste.
Homemade Beef Snack Stick Recipes
Below, we have placed our two favourite recipes which we always use for our families and friends. The first is for naked homemade beef sticks and the second one is for cased beef sticks.
Naked Beef Sticks Recipe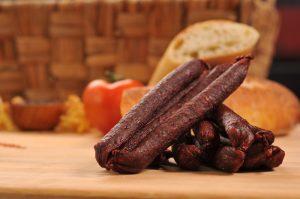 To make the naked beef sticks you are going to need several ingredients.
Bare in mind that this recipe does not contain any cheese or jalapeños inside the meat and do not have a casing surrounding them. If you are looking to make these sticks with cheese or jalapeños then you will need to have a casing around them. You can find how to do that in the second recipe below in this article.
Ingredients For Naked Beef Sticks
5 Pounds Ground Beef – Make sure that you select meat that has a high-fat content, this will mean that the meat won't dry out whilst we are cooking it.
2.5 Teaspoons Of Mustard Seed
2.5 Teaspoons Of Coarse Black Pepper
2.5 Teaspoons Of Garlic Salt
1 Teaspoon Of Hickory Smoked Salt
5 Teaspoons Of Meat Curing Product ( Ensure that it contains both salt and sugar )
Please Note: There are several variations available for this recipe, so make sure that you try something new if you are feeling adventurous. If you love spicy food, then you may want to consider adding some crushed red pepper, chilli powder, cayenne pepper and cumin or brown sugar to the mix, that will really help to give the meat a kick! If you are looking for something that will give a bigger flavour profile, place it in some pork sausage. You can be as creative as you like when it comes to adding extra ingredients, you can place in anything you think will go.
How To Make Naked Beef Sticks At Home
1st Step
Place all of your ingredients into a large mixing bowl and mix them together well. If you are wanting to add spices then this would be the perfect time before we apply this to the meat. This will help to ensure that there is an even spread of the spices rather than having strong spice peaks once we have finished cooking.
2nd Step
Wrap your bowl with some plastic wrap and allow for it to sit in the refrigerator overnight to marinade. This will allow for the flavours to sink into the meat and help develop before we cook the meat.
3rd Step
Remove the bowl from the refrigerator the following day and remove the plastic wrap from your mixing bowl. Mix the whole mixture again. Then if you are wanting to make something that is going to be extra tasty, you need to make sure that you have an even distribution throughout all of your meat.
4th Step
Replace the plastic wrap and place it back into the fridge for another overnight flavour enhancement.
5th Step
Once you have left the bowl overnight once more, then you can take it out and line a baking tray with some parchment paper. Then once you have done this you can start to form your meat into the log shape of beef sticks.
Ideally, they will need to be 8 inches in length and around 2-3 inches in diameter. Ensure that you give the meat sticks enough room between each other whilst cooking, ideally giving 2 inches between them.
6th Step
Once you have formed all your meat sticks and placed them with small gaps, you can place them in the oven to bake at around 150 Fahrenheit for at least 8 hours.
If you are looking to get the best results then ideally you need to keep turning your sticks every 2 hours.
It's as simple as that! Once the 8 hours are up remove them from the oven and your naked beef sticks will be ready to eat. Of course, allow them to cool first before you do! They can be stored in your fridge for around 2 weeks and if you place them in the freezer they will last about 6 weeks.
Casing Beef Sticks Recipe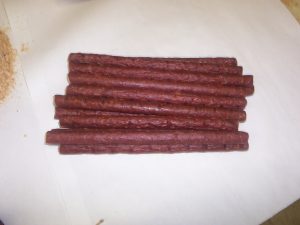 When it comes to homemade beef jerky, you will require a meat gun such as the well known Jerky Cannon or a Jerky Gun which will help you to fill out the casings.
Ingredients For Casing Beef Sticks
5 Pounds Ground Beef ( Ideally with a large fat content )
3 Whole Jalapeños
12 Ounces Of Shredded Cheddar Cheese
Collagen Casings
2.5 Teaspoons Of Mustard Seed
2.5 Teaspoons Coarse Black Pepper
2.5 Teaspoons Of Garlic Salt
1 Teaspoon Of Hickory Smoked Salt
5 Teaspoons Of Meat Curing Product ( Should contain both salt and sugar )
How To Make Casing Beef Sticks At Home
First Step
Mix the meat and all of the spices together in a large mixing bowl.
Second Step
Chop up your jalapeños, if you enjoy a spicy kick to your food then we suggest that you leave in the seeds and the interior membrane. If you want a mild flavor when cooking is complete then simply trim it out. Once you have finished chopping up the jalapeños mix them into your meat.
Third Step
Flatten out the mixed meat and add into it your shredded cheddar. Mix it gently, as if you are too aggressive your cheese will end up turning into mush and that is not what we are wanting. It is important to note that you need to be cautious when leaving this meat in the fridge overnight as it can cause the spice level to either peak or decline. So, now you are ready to prepare the stick shape once you have completed the mixing steps.
Fourth Step
Begin to form the meat into log shapes and prepare your meat gun. Place the collagen casing onto the spout, ensuring that it is fully fed onto the pipe. Fill up your gun with the meat and begin to pump it through the spout. Squeeze out any air pockets that arise and then simply tie the end of the casing. Now is the important part, slowly fill the casing all the way, ensuring that you don't get any air bubbles inside. Once you have filled it entirely tie the other end of the casing. This is a simple repeat process until you have used up all the meat.
Fifth Step
Have your oven set to 150 Fahrenheit and allow for it to preheat.
Once you have ensured that your casings are fully sealed, place the beef sticks directly onto a rack and allow them to cook for eight hours cook time.
Sixth Step
After you have finished cooking for 8 hours, remove the sticks from the oven and allow them to fully cool.
Seventh Step
Cut up the sticks into convenient lengths that will allow you to store them easily. With them being stored in the fridge you will be able to keep them for around 2 weeks, if you place them in the freezer they will keep for around 6 weeks.
And that my friends is how to make casing beef sticks at home using our beef jerky recipe.
Final Thoughts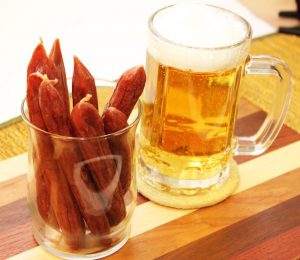 Of course, making your own beef sticks can be an enjoyable project and you can even get your family & friends involved too! It's simple, fun and will produce some tasty snack sticks you can share amongst your family.
We know that there are 2 recipes within this article and they are very similar but there are a few tweaks to the ingredients which are within the second recipe. This means that they will both taste completely different.
If you enjoy venison meat, then you can take out the beef and replace it with venison. You can even use up meat that you have had laying around in your freezer. If you are using another meat, then ensure that you add plenty of pork or beef fat into the meat.
With this project, you can keep your freezer stocked with a tasty snacks and you can keep your wallet stacked with money rather than purchasing these sticks from the store.
We hope you have had a lot of fun whilst using this recipe guide and how to make beef sticks as our family does every few weeks. It is an enjoyable recipe that you can pass down the generations.