So, you may be wondering why I have done a section dedicated to the best gas grills under 300 dollars. Well, if you take a look around the $200-$300 range, you will see that there is an exciting range of gas grills on offer. If you look close enough you can find some real gems that will make you double check the price, as some of these grills are unbelievably great for the price.
Best Gas Grills Under 300 Dollars – My Top 5
I have scoured the internet far and wide to find the best 5 models that I feel will blow you away with value for money. So, without wasting anymore of your time, let's get straight into the post!
Please Note: The star ratings used within this article are purely my own rating of the product and does not reflect other people's opinions of the products. But, I am always honest about the products I review.
Weber Q2200 Liquid Propane Grill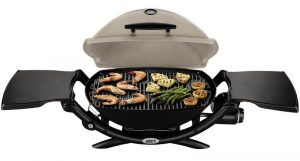 The Weber Q2200 is one of Weber's largest portable grills. With a large update from the ever popular Q220, which was a great all round, well built grill.
Weber have made some real improvements and updates to the Q2200 from its predecessor and you can tell that they know what they are doing! Below are a list of it's current features:
Features
12,000 BTU

A Single Burner

Enameled Porcelain Cast-Iron Cooking Grate

Side Tables With Folding Ability

Split Grates
When it comes to cleaning this grill, it can be done quickly and easily by simply taking out the grease tray. Although this grill is on the low side in terms of its BTU, it really makes easy work of cooking anything you may throw at it. Featuring a domed lid, it means that you can cook something as large as a medium sized bird with ease.
With the new spilt grate system that Weber has added into the Q2200, you can now have a grate on one half and the other half as a griddle. This makes the cleaning of your grates even easier than it was in the previous models.
A wheeled cart is available and is a great addition to this grill. However, it will increase the price of the grill slightly but, it really helps when you want to use this grill in your backyard. You still get the option to take the grill with you wherever you go, not to mention that with a Weber grill, you know that they are built to withstand the test of time. When you invest in a Weber grill, you know that you are getting a great quality product.
There are a few pros and cons to consider when purchasing however, these have been listed out below:
Pros
Portable Grill

Controls Are Surprisingly Accurate

Great Quality Construction (As Weber Grills Always Have!)

Easy To Clean

Spilt Grate Formation

Fold Up Side Tables Are A Great Touch!
Cons
The Lack Of A Feedback When Turning The Knob Is A Little Annoying

Having A Single Burner Limits The Cooking Options Available

Adding Cart Wheels Increases The Overall Price Of This Grill
When looking to purchase this best gas grills under 300 dollars, you should make sure that you are fully aware of the limitations it has ( small amount of cooking space, a single burner etc ), but if you are happy with those, then this grill is a great choice for you. Not only that but, it will stand the test of time due to its quality construction.
My Rating: (4.5 / 5)
Char-Broil Gas2Coal 3-Burner Grill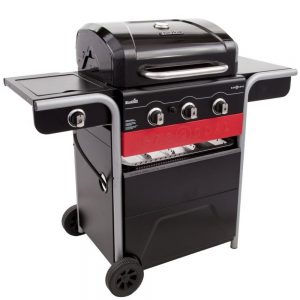 Char-Broil's Gas2Coal is definitely worth a mention here, being my choice to be in this list due to its great amount of innovation it brings.
With its ability to change from one of the best gas grills under 300 dolllars into a charcoal grill by simply adding a charcoal plate underneath where the burners are. This is a great concept which is actually really practical to use.
Features:
3 Burners Made From Stainless Steel

40,000 BTU

12,000 BTU Burner On The Side

Can Be Converting From Gas To Coal by Simply Sliding In A Panel

540 Square Inch Of Area To Use For Cooking

Porcelain-Coated Cast Iron Cooking Grates
The main positives with this best gas grills under 300 dollars is that you do get a lot of space, without the loss of heat which is great! With the 420 square inch main cooking area, which is extended across a 120 square inch warming rack, this grill has the space you need to cook almost anything. Looking at the other features the Char-Broil as such as a electronic ignition and even a thermometer, you really can't go wrong for the price.
Pros
Ability To Use Both Gas & Charcoal As Fuel

Good Sturdy Construction

All The Essential Features You Will Ever Need

Good Size For Any User

Easy To Convert From Gas To Charcoal
Cons
Unable To Use Both Gas & Charcoal Together At Once

Gas Can Only Be Accessed From The Rear

Needs To Be Maintained With Precision & Care
With the main reason for this grill being in this list is down to its ability to have both gas and charcoal as a fuel, inside of a compact(ish) unit. It is a definitely a contender for the best gas grills under 300 dollars.
My Rating: (4 / 5)
Dyna-Glo 30,000 BTU 2 Burner Gas Grill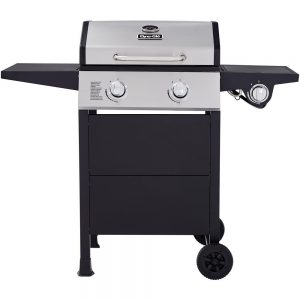 Dyna-Glo grills have always been a slight mixture of quality build and shortcuts. This is by far one of my favorite grills when it came out a few years back. However, since there has been more user data coming about, I have downgraded my rating of this grill due to certain internal parts have started to fail.
While I still think that this grill is great for the price and provides a good amount of value, you should know about some of the issues. Before we get into that, we will take a look at some of the features below:
Features
30,000 BTU

2 Burners Made From Stainless Steel

Primary Cooking Space Of 250 Square Inches

Total Cooking Space Of 547 Square Inches

Cast Iron Enamel Cooking Grates
Pros
Great Amount Of Heat Produced

Ideal For Searing Meats

Quick & Easy To Clean

Small & Compact With A Good Amount Of Cooking Space
Cons
The Position Of The Heat Rack Is Too Low

Low Cooking Grates Produces A Number Of Fire ups

Hot Spots In Certain Cooking Areas

Some Internal Parts Have A Short Lifespan
So, as I mentioned above there are a few things that bring this best gas grills under 300 dollars down in my ratings. The main one being that the heating rack is way too low and it means that it is hard to handle meat below it. As well as this, the cooking grates are too close to the burners, this means that it causes quite a lot of fire ups.
Looking closer at the grills and after some use, you can tell that there isn't a 100% heat distribution across the cooking area, which means that there is a lot of hot spots but, for the price you pay, I guess it is to be expected.
Since I last wrote about this grill, there have been a number of issues throughout the grills lifespan, mainly the internal parts. The brackets which are used for the heat tents, do seem to have a very limited lifespan. There are a number of parts which you can't seem to purchase separately and most can only be replaced by purchasing a brand new firebox, which for me is a big concern.
Other than this, the grill has a great construction and does generate a lot of heat, meaning that you can sear like the champion you are. But, still allowing for great heat control even when you need lower temperatures for cooking. When taking into account the price of this grill, you are getting a ton of value but, you should be aware of the limited lifespan of some of the internal parts.
My Rating: (3.5 / 5)
Dyna-Glo 36,000 BTU 3-Burner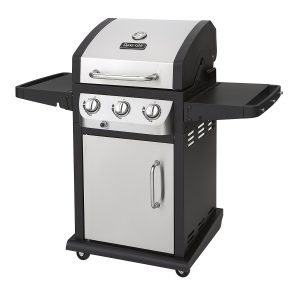 This is one of the better best gas grills under 300 dollars available from Dyna-Glo, with 3 burners having the ability to put out 36,000 BTU. Although this grill does have a smaller cooking space of around 390 square inches. With a great design styling and the use of quality materials ( metal housed casters which are a big bonus) really help this grill stand out. Especially when you consider the fact that it is under $300, this grill has far more to offer than it's 2 burner brother.
Features
3 Burners Made From Stainless Steel

Output Of 36,000 BTU

Primary Cooking Space Of 390 Square Inches

With A Total Of 570 Square Inch Of Cooking Space

Enameled Cast Iron Porcelain Cooking Grates
Pros
Consistent Heat Output

Easy To Clean Setup

Quick And Easy To Assemble

A Great Option For Searing

Good Build Quality Throughout
Cons
You Only Get A Little More Cooking Space Than On The Smaller 2 Burner Model
Whilst there is slightly more cooking space, there is a smaller amount of space on the heating rack, which means that there is less space than what you get on the 2 burner model.
In terms of heat distribution, the 3 burners having a smaller cooking area, means that you get a great output and even spread. With the burners being of a P-shape it works a lot better for this grill than if they were to be straight. This means that they do a fantastic job of making sure the heat is well distributed. It sure is a great grill to cook on.
I have a few concerns about rust, as there are certain parts such as the pans and heat tents which are not made from stainless steel.
With an integrated towel bar and easy to use shelves it really helps to add to this grills functionality, also allowing for you to hang 3 tools from the useful hooks is another great feature. Overall, this grill offers an even cooking experience and heats up great for a really good sear. With a great construction, you can't deny that this grill is a fantastic deal for the price!
My Rating: (4 / 5)
Thermos 4-Burner Best Gas Grills Under 300 Dollars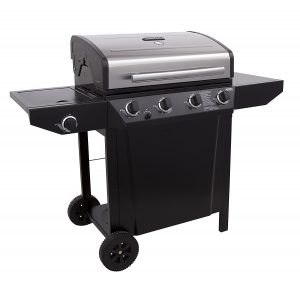 Thermos is a brand of Char-Broil, which means that we could class this grill as being a Char-Broil grill.
Now I know what you are thinking, what is this old style 4-burner grill doing for under $300? Well, Char-Broil is a brand that's main aim is to larger grills into the market for a great price.
Although you will not get a stainless steel grill which will last for a long time. You will get a great grill which will give you a large cooking space for a low price. If that sounds like a good thing to you, then you should definitely consider purchasing this grill.
Features
4 Gas Burners

Output Of 48,000 BTU

Contains A 10,000 BTU Side Burner

Primary Cooking Area Of 480 Square Inches

208 Square Inches Available As A Secondary Cooking Space

Cast Iron Gates Coated With Porcelain

Electronic Ignition Switch
Pros
A Large Amount Of Cooking Space

4 Gas Burners

A Lot Of Heat To Spare

A Great Even Cook

Side Burner
Cons
Requires A Large Amount Of Maintenance

Has A Short Lifespan
Coming straight out of the box this is a great grill for a decent price, especially because of the amount of cooking space. With a ton of great features, not forgetting about the thermometer and side burner included. Char-Broil has been around years and have mastered the making of grills, so you can expect great performance and grill quality right out of the box.
With most of these budget grills, many of the parts are not made from stainless steel. This means that after a few years they will begin to rust and suffer from general wear and tear. Due to the lower price of this grill, they are not built to withstand the test of time. In conclusion, the Thermos 4-Burner is a great addition to the grill market, allowing for a great cooking experience and a considerable amount of value when you consider the price.
My Rating: (3 / 5)
Conclusion
When taking into consideration all the best gas grills under 300 dollars within this category, I still believe that the Weber Q2200 is the best option. It is portable, built to last and offers a great amount of cooking space. Not forgetting the fact that it is extremely well built and will last a number of years if maintained correctly.
Char-Broil is closely followed by this, as they have launched into the market with their Gas2Coal model, which I have to say isn't all that bad. Offering you the chance to cook with both gas or coal in what I believe is a rather compact unit.
Dyna-Glo best gas grills under 300 are not worth forgetting either, as long as you keep in mind when purchasing that they won't stand the test of time like you would get when you purchase a Weber grill.
Let me know what your thoughts are on my top 5 list of the best gas grills under 300 dollars.