Searing Steaks on a Charcoal Chimney
"Reverse searing" refers to the practice of searing steaks after they've been smoked if you're not already familiar with it. Instead of utilizing a grill, grill grates, or any other typical method, we'll be searing steaks over an affordable charcoal chimney in this recipe.
Because this approach does not necessitate the use of an outdoor charcoal grill, it is ideal if you are cooking steaks indoors or in the smoker and only need a quick sear without a lot of trouble.
Prep Time: 5 minutes
Dry Brine Time: 2 hours (overnight or up to 24 hours is best)
Cook Time: 45-60 minutes
Sear Time: About 2 minutes per steak
Smoker Temp: 225°F (107°C)
Meat Finish Temp: 128 °F (53°C)
Recommended Wood: Oak
5 Steaks
5 teaspoons Coarse kosher salt
2 Texas style rub
Smoker
Charcoal Chimney
Lump Charcoal
About the Steaks
As a review sample, I was sent a six-ounce top sirloin steak from goodranchers.com, and I thawed it out for 24 hours before cooking. Approximately 3/8-inch thick.
Your cooking time will vary depending on the thickness of your steak and your preference for doneness. For the perfect steak, see the following steps.
Step 1: Dry Brine – The Salt
Place the steaks on a pan with a rack to dry brine. The rule of thumb is 12 teaspoons per pound of coarse kosher salt, but I rarely measure. To ensure that the steak is flavorful but not oversalted, I sprinkle the steaks with salt until they resemble sugared gumdrops and then cook them.
You can measure out the salt based on the weight of the steaks, but I prefer to "eyeball" it. It's crucial to note that I probably use more than the "rule" suggests, but my steaks are never over salted. There's a lot of leeways here, and the rule, in my opinion, is VERY cautious.
I merely season the top side of the steaks with salt.
The salt will immediately draw moisture to the surface of the meat, and after about 15-20 minutes, the meat fluids will be dripping on top of the steak.
When that happens, it's time to administer the rub.
Step 2: Dry Brine – The Seasoning
Jeff's Texas-style rub is one of the most flavorful and delicious rubs for steaks, burgers, brisket, and other meats. It's the best low-sodium and high-flavor food out there.
Now that the salt has drawn all of the moisture from the steaks, apply a generous amount of Texas-style rub on top of them.
The steaks should be refrigerated for at least two hours before cooking. Overnight is great, but anything more than that is preferred.
Step 3: Smoke
Start your smoker around 30 minutes before you're ready to smoke the steaks. Using indirect heat, prepare the smoker for cooking at 225°F (107°C). Fill the water pan if your smoker has one.
I like oak wood or pellets for smoking, but feel free to use whatever you have on hand or prefer. You can either use a pan with a rack and let it sit in the smoker after it's ready, or you can put the whole pan of steaks in there.
We want to cook them to about 110°F (43°C) before reverse searing them to 128°F (53°C) for a medium-rare finish. Finish temperatures can be adjusted to be done at a different temperature, depending on how done you want them to be.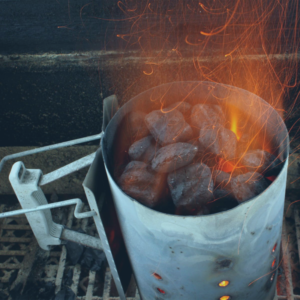 Step 4: Reverse Sear
It's time to get the charcoal chimney ready for searing steaks when the steaks are about 20 minutes from being done or hitting their "remove" temperature.
To serve as a grate for the steaks, place a small smoker grate, a small piece of expanding metal, or something similar on top of the charcoal chimney.
Place the steaks, one at a time, on top of the charcoal chimney and sear on all sides. Keep an eye on them and flip them over when they get the color and sear that you desire on one side.
Once you've turned them over, use an instant-read meat thermometer to ensure they're done to your liking. Prepare a pan with foil on top to keep the steaks warm until you finish searing them.
Step 5: Rest and Serve
When you're finished searing the steaks, bring them into the house and serve them right away.
Note: By leaving them in the pan while you sear the rest of the steaks, they will have a rest time under foil by default and be ready to serve when you bring them into the house.
I ate almost a whole steak at the counter before serving the others because they were so amazing!